"BEYOND MERCURY"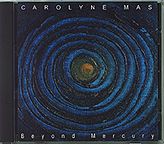 This is my first career-spanning retrospective: 17 tracks from 1979 through 2001, half of them never-before-heard. This CD includes tracks from my five studio albums, plus many newer, previously-unreleased album cuts, as well as demos done on the 16 track home studio of friend and collaborator, Mark Johnson. I then worked with AHA Studios in Nashville to master all of these tracks onto one CD. The photos are all personal ones, and there is a complete list of credits inside. The cover was painted by me when I ran out of ideas for a cover. When my father died in 2002, I decided to dedicate this CD to him, and I added as the last track, a song sung by him and recorded more than 50 years ago, named "Foggy, Foggy Dew." He is accompanied by my Aunt, who now has Alzheimer's, on the piano.
The first pressing of "BEYOND MERCURY" was made in November of 2003, and it was the first release for "SAVAGE JULIET RECORDS." The name "SAVAGE JULIET" came from the label on the inside of a overcoat given to me by a fan from Springfield, MO. It had been his grandmother's. Once the name for a long-age tailor, it sounded to me like a great name for a label of a different sort! So, 15 years later...well, the rest is history. Thank you Gene Shipman, for the coat, wherever you are! This CD is currently out of print. Download is available from CD Baby.
"BRAND NEW WORLD"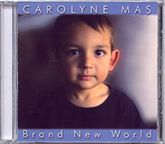 Produced by the late and great Steve Burgh, and released September 16, 2005, this CD contains the studio versions of the demos of "Little by Little," and "Be Your Girl" which appear on "Beyond Mercury," as well as the original arrangement for "When You're Near," which was recorded in 1993's "Reason Street," in more of an "acoustic" style. There is actually a third arrangement of this song recorded as a demo in 1985, but it was unfortunately lost over the years. I do have an obscure live accoustic version #3 from "The Speak Easy" in NYC, 1985, with congas (!) and David Landau ("Carolyne Mas," "Hold On") on lead guitar. I think "When You're Near" is one of the songs I'm not done with yet! It was written at the end of 1981, for a boy named Locke Wallace, who was the most handsome guy I had ever seen. I have copies of this CD for sale on eBay where I will personally autograph them for you. You can buy the download at CD Baby.