A friend of mine recently suggested that I sell hand-written lyrics on fine linen paper as Holiday gifts...and as I made my first few, they evolved into something that I wished to now do permanently. 
I discovered that writing the lyrics by hand was not the wisest choice, as I kept running out of space, and they were uneven, running either uphill or down. Short of inventing a font that is exactly like my handwriting, I searched the internet and began downloading fonts that I felt were artistically compatible with the themes expressed in each song. I then chose to draw over the printed lyrics to make them more interesting, and then I added artwork with conté crayons. A coll new idea was born...which I will call lyric illustrations. Each is unique. These of some examples of my recent work that just shipped out.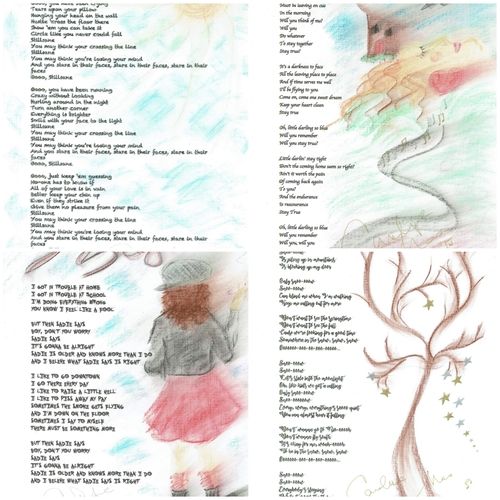 The cost per order is $60, and I will ship each unique piece via Priority Mail for US, and first class mail for Canada and all points overseas. When you order through PayPal, just specify which song you would like, or if you prefer contacting me directly, just email me at samlorac@aol.com.