DropBox File Sharing Access!
I had an idea while sharing some files with friends, to offer access to fans so they can burn their own CDs/DVDs from my files, or just download them to their mobile devices. I will charge $30 for full access, and this will not change no matter how many files are added in the future.
Brand new among these files is a Carolyne Mas show from the Fast Lane in Asbury Park, New Jersey, in January of 1980 . Also among these files is a 1979 video of the Bathurst Theater in Toronto, a Chorus TV show from Paris from 1979, the Ovation TV show recorded by Paramount for HBO in 1980 but never released, my promotional videos for Carolyne Mas which were recorded from the VHS tape that my manager had from the record company, as well as all my studio recordings ( US and Germany) and several live recordings which I am still adding, like RockPalast, More Mas Hysteria, and a 1990 show from Karlsruhe, Germany. I am in the process of adding even more, and fans are welcome to contribute their photos or recordings as well. I just added "Brand New World," as CD of the last recordings I did with producer Steve Burgh in 1999. 
This is a great idea that lets you save money over CD Baby prices, as well as make custom compilations easily and share files with other fans.
DropBox Access
LYRIC ILLUSTRATIONS
A friend of mine recently suggested that I sell hand-written lyrics on fine linen paper as Holiday gifts...and as I made my first few, they evolved into something that I wished to now do permanently. 
I discovered that writing the lyrics by hand was not the wisest choice, as I kept running out of space, and they were uneven, running either uphill or down. Short of inventing a font that is exactly like my handwriting, I searched the internet and began downloading fonts that I felt were artistically compatible with the themes expressed in each song. I then chose to draw over the printed lyrics to make them more interesting, and then I added artwork with conté crayons. A cool new idea was born...which I will call lyric illustrations. Each is unique. These of some examples of my recent work that just shipped out.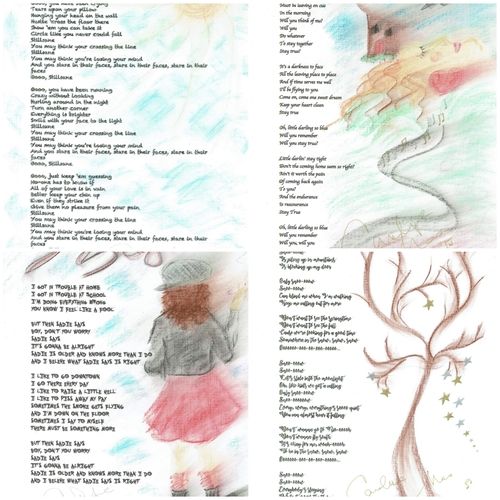 The cost per order is $60, and I will ship each unique piece via Priority Mail for US, and first class mail for Canada and all points overseas. When you order through PayPal, just specify which song you would like, or if you prefer contacting me directly, just email me at samlorac@aol.com.
BRAND NEW WORLD CD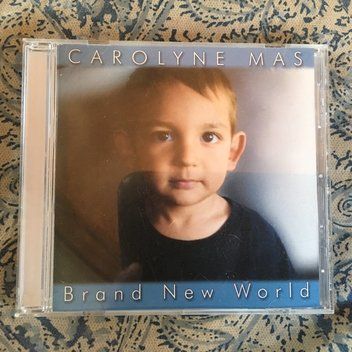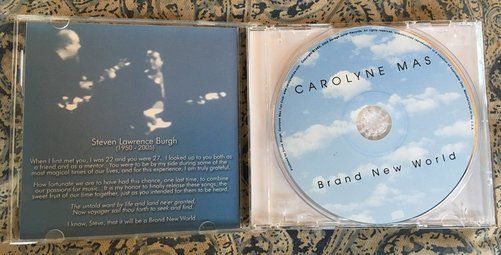 BRAND NEW WORLD CD $21.50 (INCLUDES PRIORITY MAIL US ONLY, FIRST CLASS MAIL CANADA )
FOR ALL OTHER INTERNATIONAL ORDERS, PLEASE ADD AN ADDITIONAL $7.50 FOR SHIPPING COST
COMMISSIONED ARTWORK
I specialize in creating small portraits taken from photos, and I work mostly with conte crayons to capture the essence of the person I am drawing. Below is a sample of my work.
I can create a special hand-crafted frame for your portrait, if you wish, for an additional charge.
Please contact me at samlorac@aol.com, if you would be interested in me creating a special piece for you. Prices vary.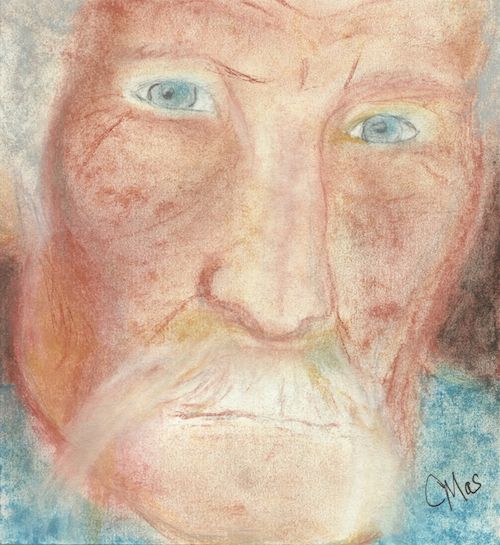 "ACROSS THE RIVER" NOW AVAILABLE AT AMAZON AND APPLE MUSIC!
You can now purchase "Across the River" directly from Amazon Germany, France, Italy, Spain, and the UK, or from Route 61 Music in Italy. You can also download it on Amazon or on Apple Music. "A great voice, even better today, a great personality, and exciting songs that touch the soul." ~ Blue Bottazzi Beat "The rich notes in the booklet tell in great detail her encounters and love affairs with these songs, part of a "time travel" which includes several previously unpublished original compositions as well as a few that are known and revisited with grit, class and sexiness between sinuous swing, scat, blues, Latin flavors and touching confessional ballads." ~ Alfredo Marziano, rockol.it
"FROM MUSIC COMES THE RIVER"
I was inspired to paint this after completing the liner notes for my new CD "Across the River" on Route 61 Records out of Italy. It is to featured in the artwork, so it is a very special work for me as well as for fans.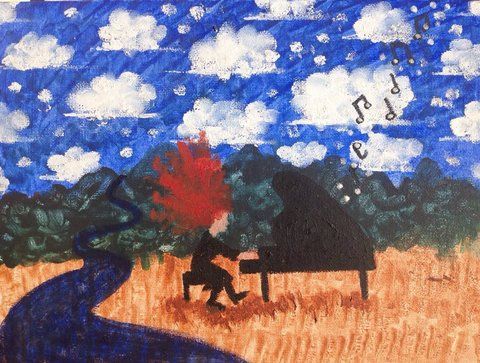 It is 9" x 12", and is acrylic on canvas. It will be personally signed to you, and is unframed so that you may frame it to your taste. SOLD!
"WELCOME HOME, LUCY"
I painted this canvas in July, after my dog Lucy died from a rattlesnake bite. I saw this image in my head of the spirit of my late mother, almost like a loving mother earth, welcoming Lucy's spirit home to the great beyond.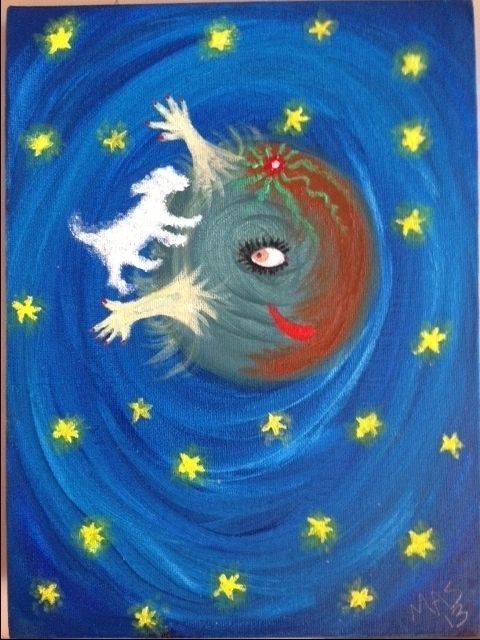 It measures 9" x "12, and is acrylic on canvas. It is signed. You can frame it to your taste. SOLD!